Today, we're going to be covering everything you need to know about the Alpha Bidet JX luxury bidet toilet seat. We've got pictures & demos of every feature and all its benefits.
I still haven't found a perfect toilet bidet& the Alpha Bidet JX is also not an exception. But, it's definitely the best one around for that price(300$-400$). I'm not even sure if there are any more luxury-class toilets in that price range
If you like what you see, the best place to buy it is through Bidet King. They own both companies and are able to provide a better warranty & service. Let's have a look at Alpha Bidet JX Review.
Alpha Bidet JX Practical Review and Features test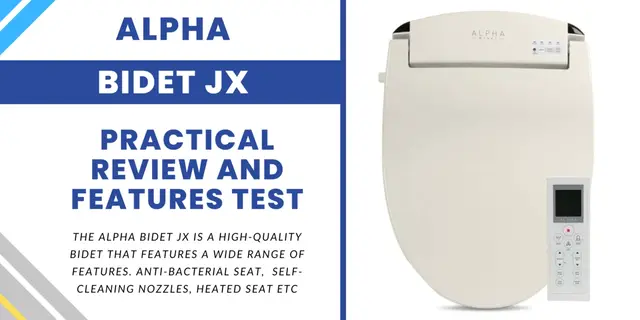 There are a lot of different electric bidet seats available on the market, but I picked the Alpha Bidet JX as it offers several important features including remote and heated water, a drying function, a Led nightlight, etc. The Alpha JX bidet seat features the best technologies at the most affordable price.
Alpha Bidet JX Overall Performance
| | |
| --- | --- |
| Features, Performance & Test | Rating Out Of 10 |
| Water Performance test | 10 |
| Water Heating Performance test | 9 |
| Water Nozzle Performance test | 9 |
| Design and Comfort test | 8 |
| Build Quality test | 9 |
| Water and Energy Efficiency | 10 |
| Self-Cleaning Performance | 10 |
| Air Dryer Performance | 7 |
| Heated Seat Performance test | 10 |
| Nozzle Features and Sanitation | 9 |
| Special Spray Feature | 7 |
| Special features test | 8 |
| Remote control performance | 9 |
| Working Functions | 9 |
| Nightlight feature Test | 10 |
| Installation Test | 10 |
The JX is the second strongest pressure bidet I've used, right after the BB-1000. Alpha JX offers a large water flow rate of 0.7 liters per minute and no Turbo mode. To get max pressure, use the H button when washing.
How it sprays
Alpha Bidet JX is a spray bidet that has a nozzle that can be extended out. The nozzle will spray an aerated jet of warm water toward your rear.
The jet of water will help to clean the area in between your buttocks and also help you to feel more refreshed.
How its overall feature works
How it is a good bidet for every type of user
Alpha Bidet JX is an affordable and easy-to-install bidet toilet seat that has a variety of features to keep your bathroom clean and fresh. It comes with an automatic deodorizer that eliminates unpleasant odors
The features include:
A heated seat
Heated air dryer
Warm water washing with adjustable water pressure
Self-cleaning nozzle
Self-drying nozzle
Mention high authority website research about good quality bidets and How Alpha Bidet JX is.
Water Performance test of Alpha Bidet JX
The JX has an instantaneous tankless water heater, which puts out hot water at maximum temperature. Most low-end bidets run off a small heated tank of water (which typically takes around 30-40 seconds to go empty). A lot of the more expensive models on the market have water tanks with similar specifications.
If you're looking for a long-term solution, the JX on-demand water heater will be perfect. Even after running it for an hour, the water will still be heated.
Higher-end Brondel bidets are 1.5x more expensive than the JX, with TOTO's cheapest model, the K300, being one of the few to offer this feature.
Not all instant heaters are the same. Some produce just hot water whereas others can get up to 100° F on their max setting. The JX goes until 104° F per the manual and I've tested it up to 99° F
Heating Performance test of Alpha Bidet JX
The Alpha Bidet JX is a high-efficiency water heater that provides endless warm water and has many other features. The water heater settings are adjustable and they can be set to the desired temperature.
The dryer can be set on or off, which is important for some people as they don't like the feeling of dry air on their skin after using the toilet.
It has one of the fastest heating performances in the market. It usually takes less than 30 seconds to warm up the water and provides a consistent stream that is perfect for cleaning yourself after using the toilet.
Water Nozzle Performance test of Alpha Bidet JX
The JX does have a nozzle oscillation feature, one which is particularly efficient for getting rid of gel and polish residue.
The downside is that it doesn't have a pulse setting, which would rotate from low to high pressure, providing an indulgent sensation on the skin akin to a hand massage. Oscillations can be used to remove product evenly from the cut.
One of the most important bidet features is the oscillation mode and it sets electric bidets apart from non-electric seats and attachments.
You might think using a stationary nozzle to wash your butt is like using a hose. But you'd be wrong! The hose moves around so you don't have to, and it can get to all the right places without moving at all.
Design and Comfort test of Alpha Bidet JX
The bidet comes in two shapes: elongated and round. I measured this model of bidet to be 19.4″ (round) or 20.8″ (elongated). The manual lists it as 5.8″ high, while I measured it at a rear height measuring at 5.8″.
The design of the Alpha bidet is not only aesthetic but also ergonomic. It can fit in any toilet and it is easy to install. The comfort that it provides is unmatched by any other product on the market. This product will be best for senior citizens, handicapped individuals, or anyone that needs a little extra help in the bathroom.
Slimmer bidets are becoming more desirable because they look better, take up less space and provide more sitting room- it's a much more comfortable experience!
The rear seats are on the lower end of the height spectrum, so the bidet has a sleek and remarkably slim design.
Build Quality test of Alpha Bidet JX
The Alpha Bidet JX is a high-quality bidet that features a wide range of features. It has an anti-bacterial seat, dual nozzle wash, adjustable water pressure and temperature, self-cleaning nozzles, and a heated seat.
The Alpha Bidet JX is one of the most advanced bidets on the market today. It has many features that make it stand out from other models on the market. The anti-bacterial seat is designed to keep your toilet clean and fresh by killing bacteria with its antimicrobial agent.
The dual nozzle wash is designed to provide you with a more thorough cleaning than what you would get from just one nozzle.
The adjustable water pressure and temperature are designed to provide you with the perfect amount of pressure for your comfort level while also ensuring that your skin stays healthy by avoiding any burns or irritation.
Lastly, the self-cleaning nozzles are designed to help reduce maintenance costs by preventing dirt buildup in hard-to-reach places.
Water and Energy Efficiency test and Performance
The JX water heater is an instant heater, so it only uses energy when needed. The Alpha JX bidet is one of the most energy-efficient bidets I've tested so far.
Monthly Energy Cost
Bidets are very energy efficient, with the eco setting only using 1 Watt at idle.
On average, on the eco setting it should use about 0% of the energy used at an average day- just $0.03 to $0.09 per day!
Eco Mode
The Alpha JX has 2 power-saving modes. The Auto mode and Super energy-saving mode provide you with choices that are right for your lifestyle.
The Auto setting ensures the heaters stay at 86 degrees Fahrenheit.
Avoid wasting energy with the Super saver mode. It does the extra mile for you by reducing heaters when lighting conditions are bad.
For maximum savings, turn off heated seats when not in use.
Aerated Spray
Aerated nozzles manage to incorporate air bubbles into the outgoing water. This not only provides a stronger, more effective scrubbing spray, but it also means that less water is consumed over time.
Read Also
Self-Cleaning Performance of Alpha Bidet JX
The JX wash nozzle has a self-cleaning system that makes it very easy to keep clean. It also has an aluminum alloy design which makes it both durable and easy to maintain. The nozzle can be detached from the toilet for even easier cleaning.
The aluminum nozzle on the JX has antimicrobial nanotechnology to prevent the use from getting unappealing microbes in their bathroom. It's one of only a few bidets with this feature.
The JX has a self-cleaning mode that cleans the inside of the machine before and after each use. You'll also find that it can be done through the control panel by pressing & holding the Rear/Stop and Power Saving buttons for 5 seconds at a time.
Air Dryer Performance test of Alpha Bidet JX
Some bidet dryers don't dry your bum entirely, it's the same for the JX Dryer. It does a good job of drying the target zone though, this is where you get cleansed and refreshed like in a spa.
The challenge is that water can sometimes get on the back of the bidet seat and touch areas of your skin that aren't near where you want it to go. That's more likely to happen when you are at the beginning stages with using a bidet and don't know how close you should sit to it.
When you start using a bidet, you'll likely need to dry your rear manually with toilet paper or a towel. However, after getting used to it, this usually won't be a problem.
Heated Seat Performance test of Alpha Bidet JX
The heated seat of this bidet feels great, and it can be adjusted to four different settings: room temperature, 89.6° F (32° C), 95° F (35 C), and 100.4° F (38° C).
One handy feature of the Alpha JX is the slow-close seat and lid. This helps keep parts from wearing out as quickly, which can extend the life of the bidet.
Some of the more expensive bidets have auto open/close seats and lids, but most of them lack this luxury as it can be costly.
Sittable lids are pretty rare for some reason, but the JX, GX, and GXR all have this feature. The i8 doesn't have this feature.
The majority of bidet lids come with a weight limit of 160 lbs, which can be somewhat limiting. The JX Lid is meant to be sat on and has a weight limit of 320 lbs, making it slightly more accommodating.
Cleansing Nozzle Features and Sanitation Performance
The Cleansing Nozzle of an alpha jx bidet is made with antimicrobial nanotechnology which ensures that it stays bacteria-free for a long time. It also has an aluminum nozzle which ensures that it is durable and top-quality.
The JX has an automatic and on-demand self-cleaning function. It cleans itself automatically before and after each use, or by pressing the Rear/Stop and Power Saving buttons simultaneously for 5 seconds.
The nozzle can be positioned to cleanse your bottom in any direction, and the water jet can be adjusted to provide gentle or strong pressure.
Special Spray Feature and Performance
The JX is a great choice if you prefer oscillation over pulse but unfortunately doesn't have this feature. Pulse settings deliver a hot-cold sensation that's pleasant and perfect for relieving muscle tension.
One of the more important features of an electric bidet is the oscillation mode. This oscillating motion for the purposes of cleaning helps set it apart from non-electric seats and does a great job at getting you squeaky clean.
Holding a stationary nozzle in one spot can be awkward and make it difficult to get water to the right places. If instead, you let the spray move around, there are less spots that need some extra scrubbing.
Special features and Performance test of Alpha Bidet JX
The JX is a luxurious bidet seat with a built-in warm air dryer and an adjustable temperature. It also has a blue LED nightlight to help you find your way in the dark.
This bidet seat is equipped with a hybrid heater that provides endless warm water so you can enjoy the same comfort as if you were at home.
It also has an adjustable temperature for the warm air dryer, which means you can enjoy it at your preferred heat level.
In addition, it has a blue LED nightlight that helps you find your way in the dark when nature calls at night.
it also has a child wash mode which is very helpful for parents with young children.
It has a nozzle oscillation and pulse modes for its water spray, as well as adjustable seat and water temperatures.
Remote control features and Performance test of Alpha Bidet JX
You get a luxury bidet with a wireless remote instead of the side panel. The remote is much simpler than most bidet remotes, so it takes less effort to get the settings you want.
Even without double-sided buttons, the LCD screen (which displays your desired setting on the screen) helps take up less space.
Some features are also activated by pressing certain buttons at the same time.
The upside is that it saves on packing space, while the downside is that you will have to memorize how to use its features. For example, press and hold Power Saving and Rear/Stop simultaneously to activate the on-demand feature (the amber LED light will turn green).
The remote is also nice and easy to use, with large buttons that are intuitive. This means guests who are unfamiliar with bidets, children, or older people won't need to worry about figuring out how to control it.
Buttons include:
Rear and front feminine modes.
Water temp icon and arrows.
Dryer with temp adjustment arrows.
Nozzle position arrows.
Seat temp w/adjustment arrows.
Control panel buttons:
On/off button.
LED nightlight button.
Eco power-saving mode.
Working Functions of Alpha Bidet JX test
The JX is an upgrade from their standard Alpha option. This one has several differences from other models but the main reason it's such a good buy is because of its instantaneous (tankless) water heater, which means you'll never have to end up using cold tap water to wash with.
This bidet has a lot to offer in terms of features, top-of-the-line technology, and availability. The warranty is long and you can choose from various modes with ease. It's also energy efficient and easy to use.
Based on feedback from female users, I think the other notable feature of this product is the antimicrobial wand.
Tankless heating system for limitless warm water
The Alpha JX truly provides endless warm water because it has an instantaneous heater. The ix above has a hybrid heater that partly relies on a reservoir.
Warm air dryer w/adjustable temperature
Reduce the use of paper by warm air drying your bottom. This could save you a fortune in the long term, enough to pay for your bidet several times over.
Built-in white LED nightlight
The JX's nightlight feature is even better than other bidets because it has an integrated sensor that does not turn on the nightlight unless you need it.
Single, 2-in-1 aluminum nozzle
One of the best things about the JX is that it uses aluminum instead of stainless steel for the nozzle, which has many benefits. It's durable, resists soiling and is completely free of rust.
Nightlight features and Performance test of Alpha Bidet JX
The light on this bidet is much brighter than any you'll find on a standard LED nightlight. This nightlight will make it so you can walk in to the bathroom at night without blinding yourself in the process.
This feature softly illuminates the toilet and surrounding area in the bathroom. It is especially useful for those who often go to the bathroom at night.
The bidet also includes a light sensor that turns the light on and off automatically. The sensor sits in the top rear of the control panel and detect natural &artificial light conditions.
You don't need to turn the light on/off manually each time it's needed. Turning the light button on will enable this function so you won't have to worry about touching that button again. Of course, it can be deactivated anytime.
A lot of bidet lights are blue in colour. While blue looks cool, it is not great at night as it emits light close to the wavelength that scientists suggest might interrupt sleep. So this could be beneficial for those who avoid blue light exposure (often known as being a biohacker)
Installation Performance of Alpha Bidet JX
The installation process is fairly straightforward and doesn't require any special skills. The instructions are clear and easy to follow, which makes it perfect for first-time installers.
The entire process takes about 15 minutes, but you can get it done in 10 minutes if you're skilled at installing these types of products.
I have also mentioned installation guides below. So you can follow the given steps.
Easy to clean Bidet test
This bidet allows for easy cleaning. It has a special nozzle that sprays water and a special brush to clean the toilet.
The nozzle is designed in such a way that it can clean the toilet without making any mess or causing any splashback of water.
The JX has a self-cleaning function. You can activate it by pressing and holding the Rear/Stop and Power Saving buttons at the same time for 5 seconds.
It cleans itself before and after every use, but be sure to keep it clean during use too by adding more water for example.
How to install Alpha JX Bidet attachment
The installation process of alpha bidet JX is not difficult, but it does take some time. Follow the steps below for an easy and quick installation process.
Step 1: Turn off the water supply to your toilet at the shutoff valve located under your toilet tank.
Step 2: Unscrew the old toilet seat from the toilet bowl and Remove any old wax ring using a flathead screwdriver and set it aside with the old seat.
Step 3: Take out your Alpha JX bidet attachment, remove all of its packaging materials, and place it onto the top of your toilet bowl.
Step 4: Slide the bidet seat back into its mounting place by pressing it down. There should be an audible click when it's in place.
Step 5: Connect the water filter also. After connecting the water filter to the valve, connect the bidet hose to the t-valve. Connect one end of the hose to the seat.
Step 6: After the plumbing is connected, turn the shutoff valve at your wall and see if there are any leaks. To finish, plug in your electric cord to a GFCI outlet.
By following the above steps your alpha bidet JX could be easily installed in your bathroom.
Read Also
FAQs
What is the best bidet attachment on the market?
One of the most popular bidet attachments on the market is the BioBidet. This attachment is not only easy to install but it also has a sleek design that will look great in any bathroom. The BioBidet has an adjustable nozzle and spray patterns for customized cleansing.
What is an alpha bidet company?
An alpha bidet company is a company that sells products that are related to the bidet. These companies are often in the business of selling products like hand dryers, toilet paper, and other bathroom-related items.
Alpha Bidet JX Review Conclusion
Compared to the TOTO S550e, the alpha bidet JX lacks a few key features like user presets, an air deodorizer & a function that distributes mist into the toilet bowl. Even though the JX is in an affordable price range, it is comparable to other luxury bidets like the Brondell S1400 and Omigo Luxury.
I've been using this product for a while and it really has everything I need, I would recommend it to friends! There are just these 3 things that could be improved in future Alpha JX models:
More little adjustment options for the front/back nozzle position
a slimmer seat profile
A non-oscillating WASH and DRY cycle
Thank you for reading. We want to hear your feedback, so be sure to leave a comment below.